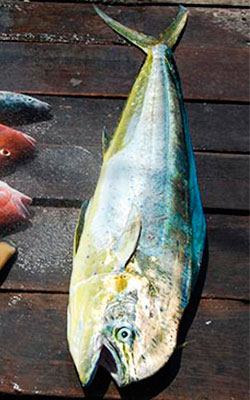 COMMON NAME: 

Mahi Mahi, Dorado, Dolphinfish
SCIENTIFIC NAME: Coryphaena Hippurus

TYPE: 

Fish

DIET: 

Carnivores

GROUP NAME: 

School

AVERAGE LIFE SPAN IN THE WILD: 

5 years

SIZE: 

3.2 to 7 ft

WEIGHT: 

15 to 40 lbs
Mahi-mahi fish are mostly found in the surface water. Their flesh is soft and oily, similar to sardines. The body is slightly slender and long, making them fast swimmers; they can swim as fast as 50 knots (92.6 km/h, 57.5 mph).
They spawn in warm ocean currents throughout much of the year, and their young are commonly found in rafts of Sargassum weeds. Mahi-mahi are carnivorous, feeding on flying fish, crabs, squid, mackerel, and other forage fish.
In tropical waters at 28°C/83°F, mahi-mahi larvae are found year-round, with greater numbers detected in Spring and Fall.
Mahi-mahi are highly sought for sport fishing and commercial purposes. Sport fishermen seek them due to their beauty, size, food quality, and healthy population. Mahi-mahi can be found in the Caribbean Sea, and most oceans around the world.